Heat-resistant aluminum foil composite fabric and pure cotton lining
Fireproof, heat insulation, high temperature resistance, anti-iron water splash.
Anti-radiation 1000 degrees, folding resistance, wear-resistant, easy to wear.
It is made of heat-resistant aluminum foil composite fabric and pure cotton lining, aramid high temperature resistant flame retardant thread.
The full set includes a cap, a coat, suspender trousers, a pair of gloves and a pair of shoe covers.
Applicable to steel plant work, fire work, radiation protection work, dust work, welding work, etc.
Note: Products with electrical plugs are designed for use in the US. Outlets and voltage differ internationally and this product may require an adapter or converter for use in your destination. Please check compatibility before purchasing.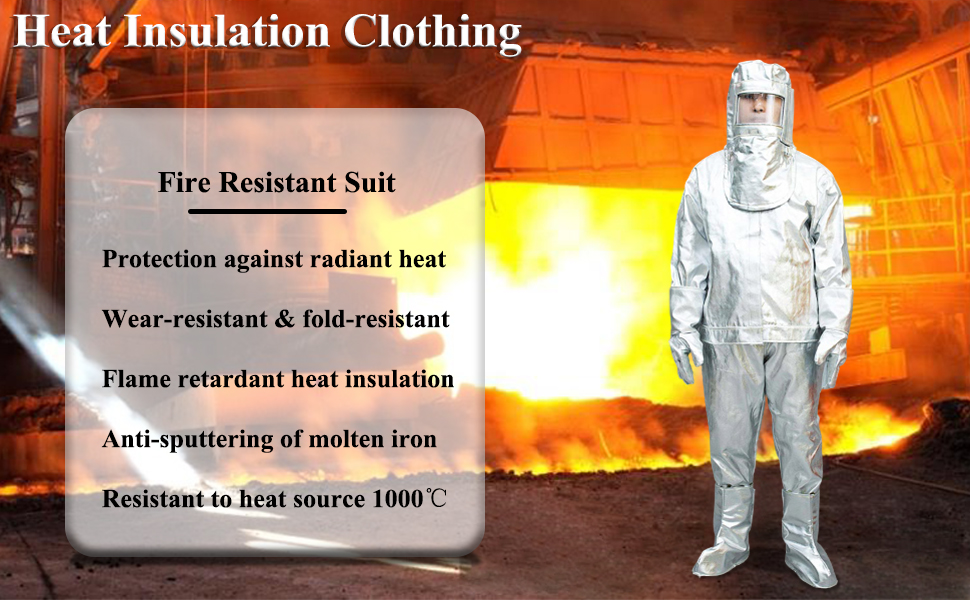 The main technical parameters:
Flame Retardant Performance: Damaged length is 50mm in warp direction and 55mm in latitude direction, continuous burning time: 0 s, no melting or dripping phenomenon
Peel strength: 31N/30mm in warp direction, 13N/30mm in weft direction
Fracture ability: 2011N in warp direction, 1500N in weft direction
Hydrostatic pressure resistance performance: >20KPa
High temperature resistance of hard attachments: At a temperature of 260℃, the original function will be maintained after 5 min.
Flame and radiant heat (thermal) protection performance: TPP>33.3cal/cm²
Size selection:
XXXL for Height 1.85~1.9m (6'~6'3″)
XXL for Height 1.8~1.85m (5'11″~6′)
XL for Height 1.75~1.8m (5'9″~5'11")
L for Height 1.7~1.75m (5'7″~5'9″)
If you are not sure which size you should buy, please kindly tell us your height and weight, and we will recommend the right size for you.
Main temperature resistance function
This fireproof suit can reflect less than 90% of radiant heat.
This heat resistant suit can reach 1 hour when the temperature is close to 300℃ (572℉).
This fire resistant clothing can reach 30 minutes when the temperature is 500℃ (932℉).
This fireproof heat resistant suit can be instantly close to the high temperature environment of 1000℃ (1832℉).
Resistance to radiant heat penetration: The time for the inner surface temperature rising to 24°C ( 75.2℉) is 68.2S.
When the temperature is 800℃ (1472℉) and 1.75m away from the fire source, the inner surface temperature of the heat resistant fireproof clothing is not more than 25℃ (77℉) in 2min.
Features: flame retardant, heat insulation, anti-radiant heat, abrasion resistance, folding resistance, anti-sputtering of a small amount of high temperature objects.
Wearing method
1.Wear pants first, then adjust the adjustment ring on the pants strap according to your height.
2.Put on your jacket, close the nylon clasp on the chest, and then press the metal buttons of on, down, left and right.
3.When wearing foot cover, be sure to cover the bottom of the pants, in case Mars fall into the foot cover.
4.When wearing a hat, be sure to adjust the safety headband, and make the binocular lens in the center of the field of vision.
5.Finally, put on the gloves, cover the cuff of the jacket over the gloves, and press the alloy button to show the completion of dressing.
Note: It is strictly forbidden to use when the aluminum foil on the surface of the thermal insulation suit is damaged or peeled off! Please check once a week!
This thermal radiation suit is the protective clothing worn by firefighters and high-temperature workers during work.
This heat resistant fireproof clothing can effectively ensure that firefighters and workers in high-temperature places approach the heat source without being burned by the heat, flame, and steam.
Applications: Aerospace, fire protection, explosion-proof, metallurgy, forestry, petroleum, chemical industry and electric power industries.
Scope of application: Protective clothing worn by industries such as fire fighting, petrochemical industry, metallurgy, steel making, glass, furnace, etc. in the face of molten iron sputtering and high temperature occasions.
If there is a problem with the thermal insulation clothing, if it cannot be repaired or the overall protective performance is still affected after the repair, it shall not be used on the work site.
Note: when working near the flame area, it shall not be in direct contact with the flame and molten metal.
Maintenance
If the surface of the thermal insulation suit is dirty, it needs to be scrubbed. When scrubbing, use a soft brush dipped in neutral detergent to clean the surface residue, then wash it with water, and hang it in a ventilated place to dry naturally. It is prohibited to soak and hammer with water.
Storage: Store the heat-insulated clothing in a ventilated place and dry it if necessary to prevent moisture.