Go big on comfort.
Allow one of the biggest animals of exotic lands far away hold your little child in comfortable, loving bliss. Our jumbo-sized friend measures a towering 24 inches (60 centimeters) in height for a cuddly pillow-buddy who can guard against night monsters and any of your child's fears.
A pillow and best friend
Innocent eyes and large floppy ears make our Baby Elephant Pillow irresistible to young kids. Children love to pull and tug and hug our big, plushy friend, and moms feel at ease with a cuddly friend for their young ones. From dark, stormy nights to sunny, boring afternoons, our elephant sits dutifully to keep your loved one entertained and feeling safe.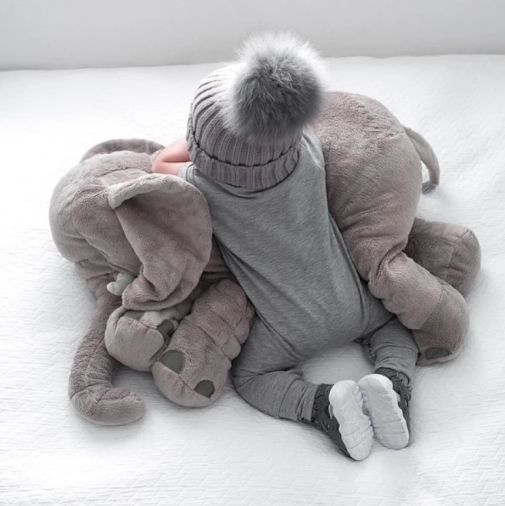 Built for squeezes
(and lots of love)
Each Baby Elephant Pillow of ours is made with love, featuring polypropylene cotton on the inside for soft, cushiony embrace every time. No chemicals or dyes are used. Our plush comes in grey, pink, and purple to please any kid's preference.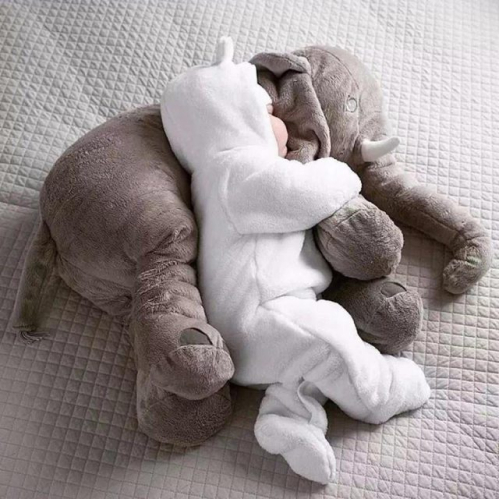 Wash and handle with care
Our big friend is machine- or hand-washable — just be sure to use a delicate cycle setting and machine wash on warm. And remember: no tumble dry, bleach, ironing, or dry cleaning whatsoever.
Cute Kids Plush Elephant Pillow
100% Brand New Materia for Baby Elephant Pillow l: Plush + PP Cotton Recommend: Perfect for babies, kids, girlfriend as a present, It's very cute. Due to different monitors, there may be slight color differences. Please don't buy it if you mind this Click the "Add To Cart" Button Above! We have very limited stock ,they will go soon!
This charming baby elephant pillow is ideal for providing comfort to your child. This cushion will not disappoint as a present or for your baby. This cushion is soft and cozy, making it an ideal present for the child to hold and sleep on.
The Baby Elephant pillow is composed of high-quality materials, which gives it a cuddly appearance and a pleasantly soft touch. It is gender-neutral, making it an ideal baby shower present for either a boy or a girl. It may be a wonderful addition to a baby shower gift basket, making it the focal point of attention when people gaze at it.
Elephant pillows for newborns may be used for nursing, which is quite convenient for parents. Because it has good room to fit the head, it can be used as a cushion for babies and adults. The legs are large enough for the child to grab and fall asleep.
Specifications:
| | |
| --- | --- |
| Ages from | 0-2 Years |
| Warranty | 3 Years included |
| Material | Plush, cotton |
| Measurements | 60cm |
| Colour | Available in 4 colours |
| Usage | Perfect for cribs, cots and pillow use |
Features:
It soothes up the baby:
 is propelled by some demonic force that refuses to fade the second night arrives. And they can be busy for hours on end, and it is tough to quiet them down when it is time for them to sleep.
You must first sit them down and offer them their favorite toy, this elephant cushion! They'll wind up hugging it and falling asleep soon enough. As this becomes a habit, your child will develop feelings for this object.
Many people have yet to understand this infrequently used but extremely helpful skill. Once your child becomes used to holding their favorite toy and feels comfortable, they will always associate it with their sleeping time. And in this way, you trick the infant into calming down and falling asleep.
It is skin-safe:
Most parents are concerned about their children becoming allergic to anything and spend much too much time thinking about the material of their child's bedsheets. But, with this charming and completely safe elephant cushion and toy, you can toss your fears out the window.
It provides support to your child's neck:
It gives youngsters the neck support they need to sleep soundly and comfortably. The positioning of the elephant baby cushion underneath a child's head can be changed depending on the elevation required.
A decoration piece for the kid's room:
You may even keep it as a décor item in your child's room or the living area. You may keep it around for years as a décor item to be put anywhere you wish, as some parents like to retain their child's toys once their child grows up.
A great gift:
The newborn elephant pillow is a charming present for your family and friends with children. You may even offer it as a birthday present to your youngster. Furthermore, when the cameramen arrive to photograph the baby shower, you may arrange this adorable toy in the background: it makes an excellent prop.
Makes Nursery Trendy:
It will be a must-have for every nursery, whether it has a neutral theme or is more boyish or girlish.
If you still feel that something is lacking in your nursery, this may be. By adding the large elephant pillow for babies, our clients create attractive and warm homes.
Easy To Look After:
It is a baby cushion that is very easy to care for. Wash it at 30°C in the washing machine. It is an extremely sturdy toy that can resist several washing and mishaps.
Resting place for your pets:
Last but not least, youngsters aren't the only ones who may enjoy playing with this charming plush elephant toy. Instead, if you are a "mother" to a slew of cats/dogs and are looking for a comfortable resting place, this is the solution for you.
Benefits:
This pillow is constructed of high-quality soft material.
It is made of 100% cotton, ideal for elephant snuggles.
It is made of hypoallergenic material to avoid allergic reactions.
The baby elephant pillow is an extremely soft and long-lasting design.
Elephant Pillow safety requirements:
The Baby elephant pillow is safe to use and sleep on for your baby.
The material is flexible enough not to harm the baby's teeth or gums.
It also does not gather much dust and is thus safe to bite.
However, we would like to point you that this cushion should be used with caution by children under the age of one.
This is essential to prevent your infant from choking on this elephant cushion if left alone.
Always keep a close eye on your infant, like any good mother.
FAQs:
Are elephant baby pillows safe?
A plush baby elephant pillow is a cute and cozy way to keep your young one delighted for hours. Elephant baby pillows may be used as breastfeeding pillows. Because it has a fitting room to fit the head, it can be used as a cushion for babies and adults.
Is it safe to use a baby pillow for a newborn?
It would be best if you did not utilize a pillow for your infant until they are two. When your child is grown, you can offer secure sleeping pillows. Choose tiny, firm pillows to offer your youngster support and comfort.
What is the baby elephant pillow?
The baby elephant pillows are fluffy, premium, and silky smooth with cotton stuffing. These elephant pillows for children, which can be used as a hugging cushion and a stuffed toy, may be a great method to put them at rest during nap time. It is used for decorating, presents for youngsters, and toys.