All ages love the Helix Hummingbird Feeder. Everyone, including kids, parents, grandparents, and friends will be delighted with this unique gift. Have fun watching seed and nectar cascade down through our helical feeders. Truly one-of-a-kind innovative feeders that allow more birds at one time. And birds stay longer as they travel up and down the helical shape, visiting the many ports.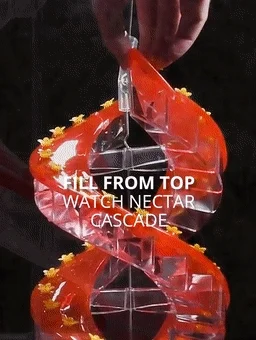 Enhanced Bird Eating Pattern.
Birds Stay Longer. 32 ports arranged in a helical design. The twisting shape mimics flower clusters in nature, therefore more closely matching instinctive feeding patterns. Attracts More Birds. The dramatic design breakthrough provides numerous ports in a compact size. The mesmerizing twisting shape is inspired by DNA strands. The red covers and yellow ports are especially attractive to hummingbirds.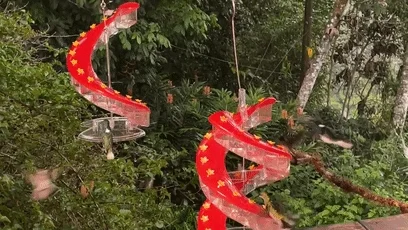 Easy to Fill and Clean
Versatile Flip-Top. Flip-Top makes it easy to quick-clean and fill from the top. No more upside-down filling. No more mess.
Enjoy Watching as Nectar Cascades Down to Fill All 32 Ports. (16 ports in each side) Fun and educational for the whole family.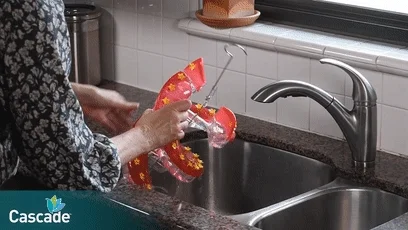 Clear Nectar Reservoir for Easy Monitoring of Nectar Levels
You can even fill the feeders when they are hanging. And watching nectar and seed cascade is educational as you and your kids fill your feeders. Cleaning is also a breeze through the innovative Flip-top.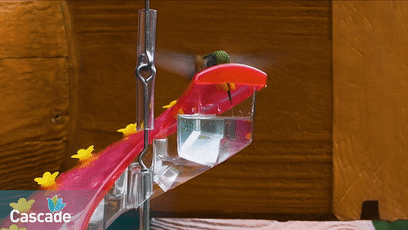 Description
16 ports arranged to mimic flower clusters in nature
32 ports arranged to mimic flower clusters in nature
Attract More Birds — 3-4 times more ports than other feeders.
Top-Fill — No mess and no waste through flip-top.
Helical Design — Mimics flower clusters in nature creating instinctive feeding patterns so birds stay longer.
Great Gift for All Ages — Fun and educational to watch nectar cascade through feeder.
Easy Clean — Quick-clean through flip-top; or feeder comes apart for a deep clean.
Design Inspired by DNA Strands — Fits more ports into a compact size.
Durable, impact-resistant construction allows for years of enjoyment. Robust UV-stabilized resins withstand the elements.
Capacity: Holds 23.5 Fluid oz. of Nectar (11.75 oz. each side)
Dimension: 7.75" diameter by 11.75" tall
Constructed from crystal-clear, robust, UV stabilized polycarbonate and polypropylene resins to withstand the elements
Cleaning: We recommend washing by hand with warm, soapy water at least once a week, and more often in hot weather.