Whether you're a fan of cryptids, the supernatural, monsters, spooky things, heck even moths – this doll is for you! We love a spooky vibe, and this is a fun way to keep the vibes going all year.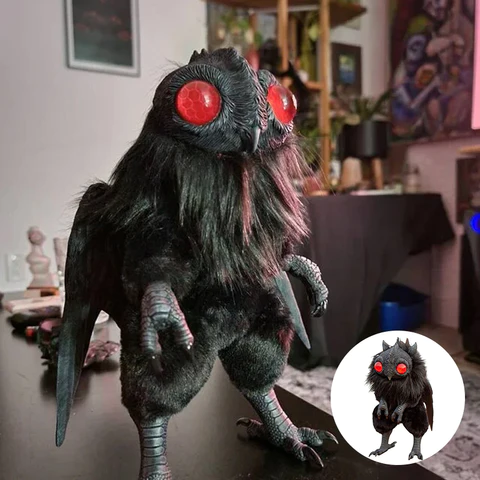 FEATURES
The head, antennae, wings, hands, and feet are cast in polyurethane resin and painted with acrylics. Eyes are made of clear epoxy resin and a red material that gives them a reflective effect when the light hits them properly at night (similar to bicycle reflectors).

The body is hand sewn with faux fur fabrics (100% synthetic and vegan-friendly fur) and has an inner plastic jointed skeleton that allows a wide range of possibilities.

The doll stands around 28cm tall and has a wingspan of 38cm when wings are posed in a horizontal position (wings are solid resin and have only one joint where they meet the back of the creature).

This Mothman Doll would look great resting on your bed, sitting on your dresser, or the shelf with your other plushies.

An American Urban Legend: The Mothman was a mysterious winged creature seen by various people in the state of West Virginia during the 1960s.A creepy tale: described as a "man-sized" flying creature with glowing red eyes, some believe the Mothman arrives before tragic events occur.
SPECIFICATIONS
Material: plush

Height: 28cm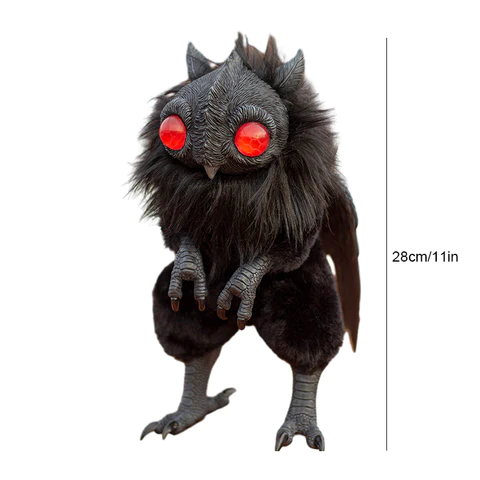 PACKAGE
1 * Mothman Baby Poseable Art Doll