We understand your concern not to hurt your knees when you try to do strength or exercise, that's why we bring you what you need !!!
Our Power Knee Pads Booster is an innovative product that provides you an enhanced leg and knee support while playing, exercising, or doing any household chore. It is 22.04 inches long and releases thigh & calf strain so your knees don't feel pain while bending. This brace is easy-to-wear and assists in everyday tasks.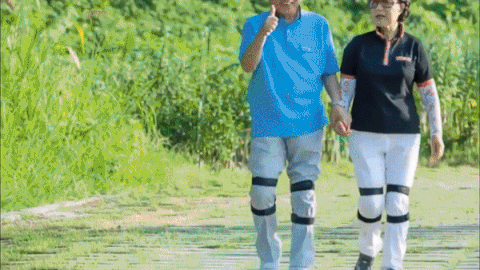 Features:
Spring-incorporated technology: The ingenious spring-loaded technology supports both legs. These breakthrough innovation pads allow you to rise, using your knees, much easier when bending or squatting with both legs.
Strong lifting Power: This Power Knee Brace pair can withstand a weight of about 20 kg each and is effective enough to lighten about 40kg from a person's own weight.
Lightweight & breathable: These power leg knee pads feature a durable, lightweight, aluminum-alloy body with remarkable elasticity that allows a 36kg stronger knee stretch. The Velcro-type, length control straps are breathable and easy to put on whether inside or outside of your clothing.
Stress-relieving knee joint support pads: Reduce stress on ligaments in the knee and instability in the anterior, posterior, medial, and lateral ligaments.
Versatile application: Ideal for various sports such as mountain climbing, biking, golf, badminton, workouts, and household activities like moving furniture, preparing meals.
Size: Power leg straps are 22.04" long.
Specifications:
Material: Breathable Fabric.

Color: Black.

Size: As Picture Shown.