Super Absorbent Dog Bathrobe with Towels –

Drying Off Your Pup
The back of the dog towel robe has an adjustable Velcro fastening for

convenient opening and shutting

. An efficient design that provides a secure fit and better suits your beloved pet.
🐶Is a Dog Towel Robe Really Necessary?
When they are wet, most dogs – even those who adore bath time or swimming – have a panic attack. Many dogs will jump out of the bathtub and rush to the nearest piece of fabric or carpet they can locate, feverishly rubbing their bodies all over it.
So, no, your dog does not require a towel. However, if you don't use one, you'll have to check every other piece of cloth to see if it's damp.
Worried about your dog catching a cold after a bath or shower and not drying their coat in time?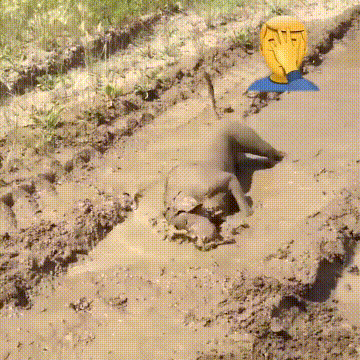 The Super Absorbent Pet Bathrobe has super absorbency and can be used as a towel to dry your pet's fur or as a bathrobe/coat/nightshirt for warmth and comfort.
Aside from

safeguarding

your linens and other belongings, there are several

other reasons

to provide your dog with his towel.
Sharing a towel with your dog is generally not a good idea. Unless you wash your dog's towel after each bath, it will eventually develop a lingering dog odor.

They're about the same price as a human bath towel. You'll have to give your dog his towel since you don't want to share a towel with him. However, an economy towel from your local big box store will cost about the same as a pet towel, and towels produced expressly for your pet's fur will function better and last longer than towels made for humans.

Most pet towels dry rapidly. High-quality pet towels are usually easier to wring out, even if they hold more water than conventional terry cloth towels. Of course, they won't be totally dry after that, but they should be dry enough to keep without wetting your dog's kit bag.

Traditional towels absorb less water than good pet towels. Because your dog's hair holds a lot of water, most standard towels will rapidly become wet.

Super Absorbent: Quick drying moisture absorbing when you are not able to blow-dry you pets at immediately, is awfully hard-wearing and comfortable.
Save Time: You will save extra time to take care of your pet after captivating a bath, shower or walk on rainy days.
Enchanted Tape Design: It is a convenient magic tape design that makes it relaxed to put on and take off.
Why Dog Towels are Special for Your Puppy?
Are you concerned that your dog will develop a cold due to not drying its coat correctly after a wash or shower? The dog towels will save you time after a wet day bath, shower, or walk by preventing them from becoming chilly or smelly. Our dog bathrobe can also be used as a towel for your dog. It also has some cool features.
🐶 Super absorbency
Made from soft, breathable polyester that absorbs water quickly, this pet bathing suit will help you save more time caring for your pet after a rainy day bath, shower or walk to avoid them getting cold or smelly.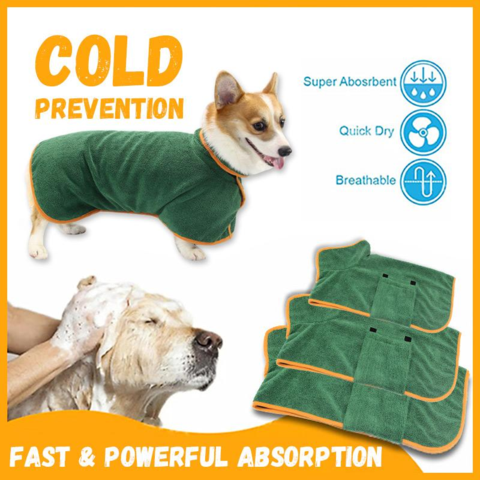 🐶Velcro Strap Design
The pet bathrobe comes with adjustable Velcro fasteners on the back for easy opening/closing. A very convenient design that offers a comfortable fit and better suits your dear pet.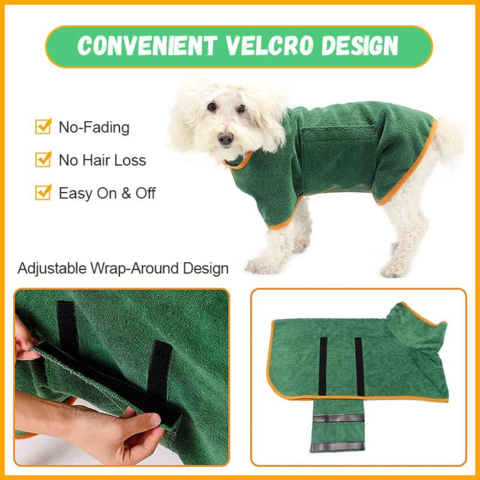 Non-sticky and adjustable in size according to your pet's waistline.
🐶Multi-purpose Pet Covering Cloth
Multi-purpose pet coverall, can be used as a pet bathrobe / pajamas / pet towel / pet warm coat, keep warm and your pet can walk or run freely as if wearing a coat.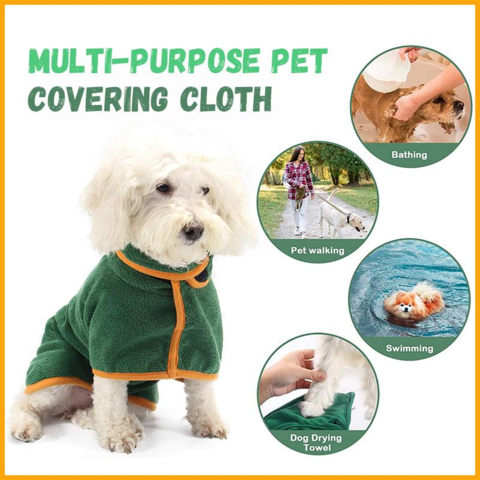 🐶Two Ways Of Wearing The Collar
Can be turned up/down collar, adjusts to your pet's neck circumference, won't give your pet a constricted feel.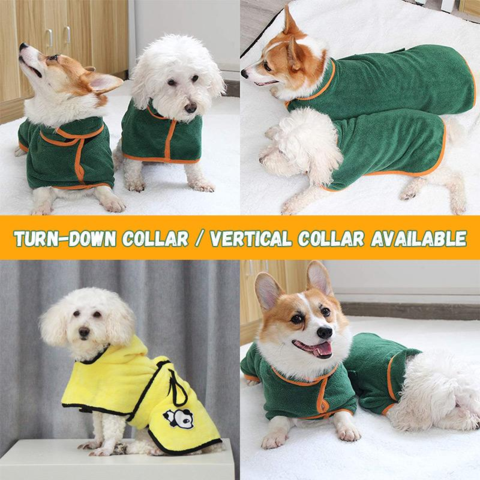 🐶Easy To Clean
Made of skin-friendly polyester for durability, it is machine and hand washable and can also be tumble dried for easy cleaning.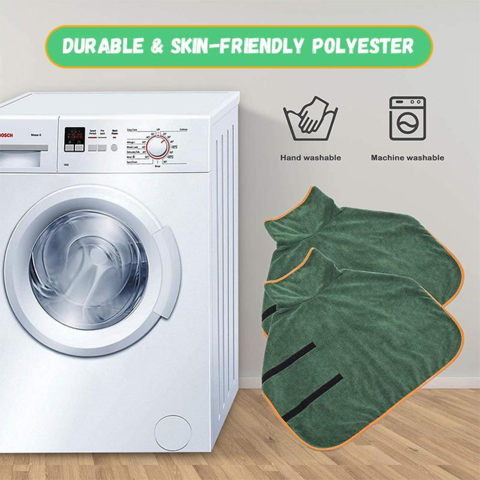 🐶 Reusable Bathrobe
You can keep your pet towel in your car or use it at home. Your sofa, carpet, automobile, bed, floor, and chairs will all be protected.
🐶 Sizes Available
 Five sizes are available to fit small, medium, and large dogs and cats. The circular chest and neck can be adjusted for

optimum protection of the pet's body.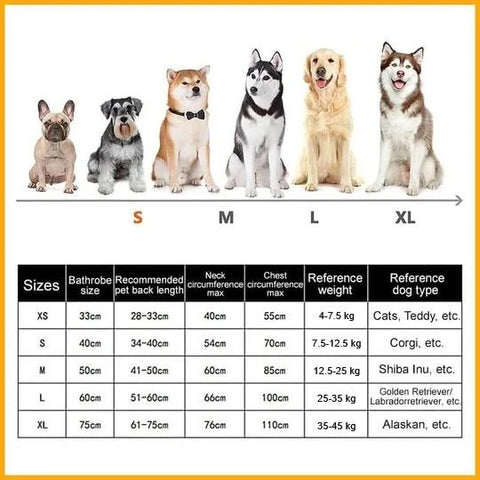 Dog Towel Robe – Specification that Suits Your Dog Great
The dog towel can keep your pets warm, comfy, and dry by rolling around on the carpet, thereby protecting them from the cold. Before purchasing, please measure your dog's back length and select the appropriate size based on our recommendations to avoid going too big or too small.
Super Absorbent Pet Bathrobe (XS): 
Weight: 120G
Size: see amove image
Package Contents: Super Absorbent Pet Bathrobe × 1
Material: Polyester
Colour: Green, Yellow, Grey, Blue
Super Absorbent Pet Bathrobe (S):
Weight: 170G
Size: see amove image
Package Contents: Super Absorbent Pet Bathrobe × 1
Material: Polyester
Colour: Green, Yellow, Grey, Blue
Super Absorbent Pet Bathrobe (M):
Weight: 240G
Size: see amove image
Package Contents: Super Absorbent Pet Bathrobe × 1
Material: Polyester
Colour: Green, Yellow, Grey, Blue
Super Absorbent Pet Bathrobe (L):
Weight: 320G
Size: see amove image
Package Contents: Super Absorbent Pet Bathrobe × 1
Material: Polyester
Colour: Green, Yellow, Grey, Blue
Super Absorbent Pet Bathrobe (XL): 
Weight: 420G
Size: see amove image
Package Contents: Super Absorbent Pet Bathrobe × 1
Material: Polyester
Colour: Green, Yellow, Grey, Blue