PLUG-and-PLAY Wirelesses Lavalier Microphone – Provide You with a Professional & Clear High-Quality Recording Experience.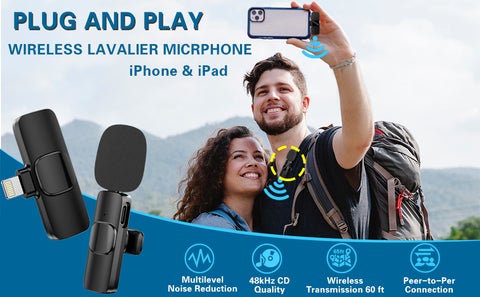 Why Choose YO-GOGO Wireless Lavalier Microphone?
No APP or Bluetooth is needed, it makes it so easy to connect, just plug and play.
Only 0.009s delay in transmission.
Hands-free, small compact size for easy attachment to shirt, tie or bag.
Offers professional full-band audio 48kHz stereo CD quality.
Great versatility and compatibility.
Simply connect the receiver to your device, clip the transmitter to your shirt, and both will automatically connect, and then you can start to play fun when you join Vlogging, interviewing or lecture teaching, etc. Filmmakers, videographers, and content creators love it.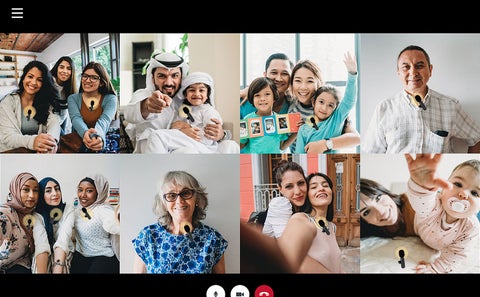 【Plug and play, no APP is needed】
The innovative Lavalier Microphone is different from others, which includes transmitter and receiver, they will automatically connect, so APP and Bluetooth are not required. Just plug the transmitter into the devices (Lightning port or Type-C port) and play it directly.


【Noise Reduction】
Omnidirectional microphone for iPhone and Android, clear recording in a noisy environment. Built-in high-sensitivity sound capture accessories and maximum support 20 kHz high-frequency. For the Noise Reduction, maybe you couldn't expect more
【Performance Wireless System】
The transmission mic built in rechargeable battery, supports up to 10 hours of Working Time. 20M/65Ft Barrier-free connection, 360°omnidirectional sound reception, recording every detail.
【Real-time Clear Voice Auto-Sync Technology】
Built-in Omnidirectional Condenser Microphone, it Captures Sound in Every Direction. Using real-time auto-sync technology, which extremely reduces the video post-editing.The wireless mic offers professional full-band audio 44.1~48kHz stereo CD quality, more than 6 times the frequency of conventional mono microphones. Support Multi-Channel Real-Time Mixing, it can synchronize the background music for phone and human voice in real time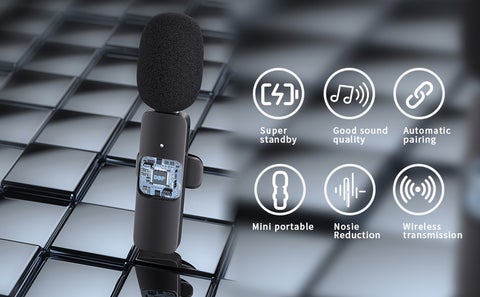 【Compatible with iPhone and Android 】
Equipped with a Type C to Lightning Adapter for iOS. Compatible with iPhone/ iPad & Android smartphones, tablet with Type-C port.Easy for you to play with YouTube/Facebook Live Streaming, TikTok, Vlog, Blog, Podcast, Zoom, Interview and another video recording.
Please confirm your devices before you place an order, the other model is invalid.
Mic for iPhone 12/12 Pro /Pro Max,11, 11 Pro, 11 Pro Max,X, XR, XS, XS Max, 8, 8 Plus, 7, 7 Plus,6.5,SE.
The latest version of 12.9 inches and 11 inch iPad Pro is type-c port! Please choose the type-c port Wireless Mic!
Product Parameter
Color: Black
Transmission Type: 2.4GHz
Sampling Rates: 48kHz
Operating Distance: 65 Feet(20 meter)
Working Time: 10 hours
Charging Time: 80 Minutes