For instant 20/20 vision without prescription
Suitable for both men and women
Adjustable lens for changing the focus to see in a far and near distance
Lightweight and comfortable to wear

Lens Height: 

2.5 cm

Lens Width: 

4.8 cm

Feature:  -6.00 to +3.00 lens grade
Adjustable Glasses Unisex Dial Vision Lens
Get 20/20 vision without going for an eye checkup with the Adjustable Glasses Unisex Dial Vision Lens. You can now get clear vision and focus without any prescription with these glasses. Using the dial on the side of the glasses, you can change its focus to your comfortability.
How It Works
Unlike your usual glasses which only allow you o see in a definite distance, these adjustable glasses are not like that. It allows you to adjust the lend so you can zoom the distance and see clearly. This is NOT a substitute for your prescription glasses, but just an aid for reading in a more focus way. You can adjust its use from distance glasses to reading glasses! A great help for people with near and farsightedness. But remember, do not use this glasses for driving! These are only designed for reading and doing crafts. Rotate the dial on the side to adjust the glasses from viewing from near or afar.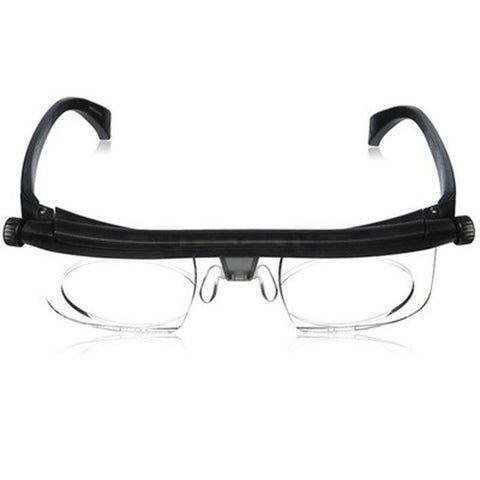 Smart and Durable Design
The lens is made of durable acrylic materials. You can see that the lens is made of layers which are modifiable left to right. It has a dial on the side of the glasses so you can adjust to your needs depending if you want to see what is in the distance or what is near you. The design is both suitable for men and women. Very lightweight and comfortable when worn. Will not leave any marks in the nose bridge.