Full Automatic
Line up dominoes with a train! The Domino Express automatically places the dominoes. When the train moves, it places the next one and the next one–all the way down the track!
Domino Fun will automatically release electric train educational children's toys (English version).
It is entertaining and entertaining, and cultivates the baby's concentration and logical thinking.
3-9 years old is the prime time to improve children's concentration. The ripple effect caused by the dumping of dominoes attracts the baby's visual tracking and exploration.
Gently push the dominoes with your small hand, the dominoes will have a chain reaction, and they will fall one by one, or you can drive a small train to aim for the fall.
Automatically lay out the cards evenly at intervals of 1.5cm. The small train machine will issue the cards from the rear of the car while driving, which is simple and time-saving, and the baby can also manually lay out the cards.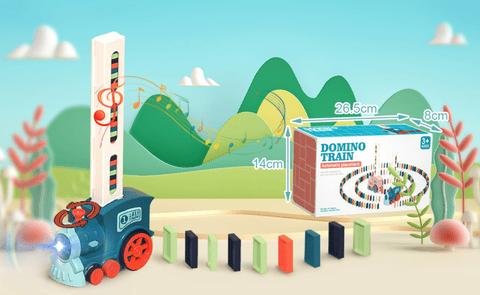 Rotation adjustment
The movement of the train is adjusted manually, and your child can turn the train hopper to steer left or right. The eye-catching train design makes this a great gift for any child.
Child Development
Domino train is designed to develop children's imagination, hand-eye coordination, color and shape recognition. It has a beautiful design and the children are going to love it.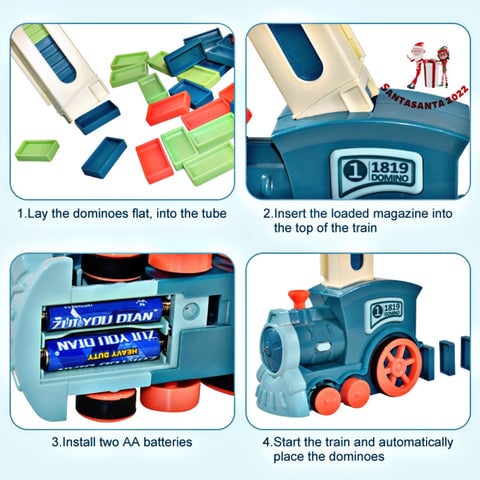 Rotate the train chimney, adjust the chimney to control the direction of travel, and put on various creative shapes. Babies can also manually place cards by themselves. In the process of building, they can open up thinking creativity and practical ability.
In the process of starting the small train, it will emit the sound effect of the real train, which increases the fun of playing.
The small train that plays the role of strength and appearance enhances the aesthetics and exercises the baby's recognition of colors.
The edges are polished and rounded, without edges and corners, without burrs, and will not hurt your baby's small hands. Nylon gears do not get stuck, so babies can play with ease.
The side switch of the locomotive starts the train, and then the cards are automatically cast.
The power supply of the small train is two AA batteries. There is no battery in the delivery, you need to bring your own!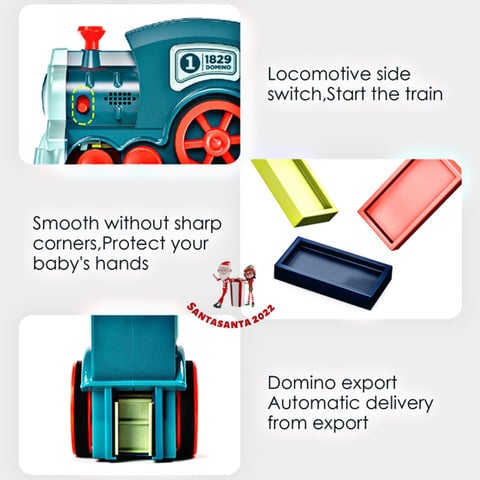 Family Time
Would you like to spend some time with your child? The domino train is a toy that will not only interest your child, but also you. Order it now and enjoy playing with your child.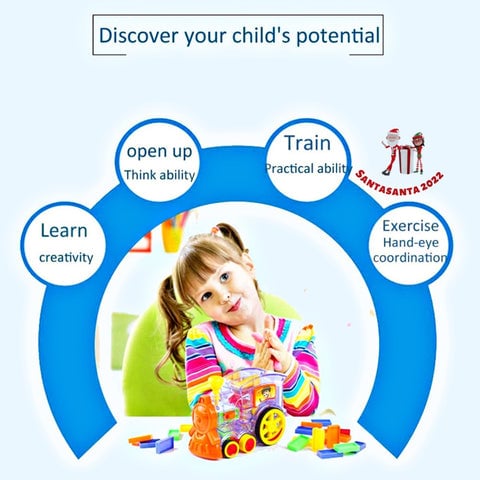 Product Information
Material: plastic
Power supply mode: battery
Packaging method: color box
Plastic material classification: ABS
Plastic building block type: small diamond particles
Color: 490g/Makaron blue+60 dominoes , 490g/Makaron powder+60 dominoes , 490g/transparent color+60 dominoes , 200 dominoes 10 packages
Product size: 26.5 * 8 * 14CM