This Cute Talking Hamster Plush Toy is back and loves to repeat what you say but in his own cute hamster voice!
Makes a hilariously fun gift for babies!
Babies seem to have a blast with this hamster & it keeps them entertained when you're busy! 
Simply turn the switch on and then record a short message. He'll repeat the message back to you in a funny, high pitched voice. Speak again and he'll continue to respond!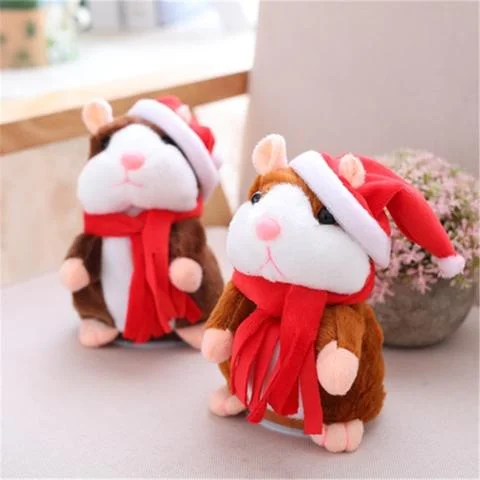 Full of fun and laughter, this cute Talking Hamster Toy repeats everything you say in his own adorable critter voice. And while doing that, he dances and shakes his body. This is a perfect plush toy for families to trigger a burst of laughter whenever their friends get together or even are alone. It is powered by 3AAA batteries.
Repeating toy: To hear him talk, squeeze his left paw and record a short message you would like to hear back in the cute squeaky voice. The voice is high-pitched but no shrill and can be understood easily. It doesn't catch the background noise that much. Utter a sentence, sing a song or speak a different language.
Sensitive audio receiver: The toy can differentiate between the voice of a male and female. Experiment the voice of you, your spouse, sister or a kid in the family.
Shake and dance: The talking hamster toy is not just about audio. It has an auto shaking feature which is activated when touched. The head bop up and down whenever he is speaking or even patted.
Ideal for parties: This is an adorable fun toy whenever families and friends get together. Test different sentences with the hamster and get amused by the repeated voice. It can easily make you and others laugh due to its funny voice and cute presentation.
Give as a gift: The talking hamster is a great giftable option for your friends with kids. Hamster is a personal favorite of kids and there is no doubt they wouldn't love it.
Batteries: 3AAA (not included)
Comes in 2 different sizes 15cm and 18cm