Grow your lawn grass quickly and effectively with no effort! We created the most innovative and cost-effective solution to provide the finest possible and long-lasting results. As a result, you can develop the lawn you've always desired with no effort. Simply sit back and wait for it to develop in as little as a week.

Grow A Pleasing Green Lawn Without Too Much Bother
Because the grass is so important to the appearance of our houses, it's easy to see why so many of us spend so much time attempting to attain a green, lush lawn.
Whatever method you pick to develop your grass, maintaining a beautiful yard will require a lot of time and work.
Because not everyone has the time to mow, water, and fertilize their lawns on a regular timetable, we created the ideal Mousse Liquid Grass Spray.

Spray on our premium grass seed for your lawn
Spraying on grass seed is a method of spreading grass seed to the soil that involves the use of a combination of grass seed, water, fibre mulch, and other ingredients such as fertilizer.
This slurry combination can also be applied to existing lawns that lack a lot of grass.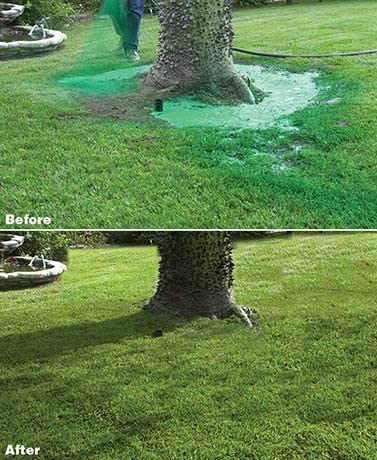 Liquid grass seed is usually used for areas with exposed, steep slopes or large areas of soil with little to no vegetation.

Features
It shields the soil against surface erosion from premature heavy rains.
The mulch in the hydroseed stimulates the natural retention of soil moistness.
Depending on the dimensions of the lawn, hydroseeding can be more cost-effective than other forms.
It produces highly consistent grass growth.
Package:
x10 Pack Liquid Formula +1 Sprayer Of HouseHold Seeding System Liquid Lawn Seed Spray