Wouldn't it be amazing if we are lived in places where we could have the perfect white Christmas, with the picket fence and the perfect white, fluffy snow for the children to play in? Maybe you live in place that keeps green all year round, but there is no reason to miss on the Christmas magic. Or maybe you want your snowman to be perfect and keep a watchful eye on your porch even when the sun peaks out his face through the clouds.
Be different this year; surprise your neighbor with an out of the box welcoming decoration for the front or the back of your house.
Chunky Wood Cutouts Snowman Family
Inspire the envy and awe of your neighbors with this quirky set of "Chunky Wood Cutouts Snowman Family" in their unconventional form.  Put at the front of the house, these  snowmen add a colorful festive effect to the Christmas decoration.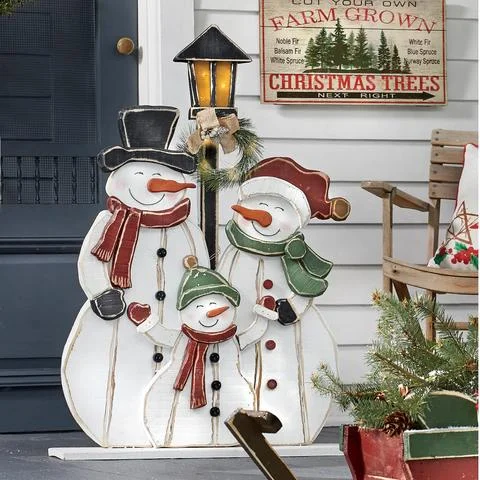 Turn your yard into your personal South Pole with much less effort, and a longer standing effect with a select choice of creative, unique, inspired and playful Snowmen Christmas decorations for your porch and yard.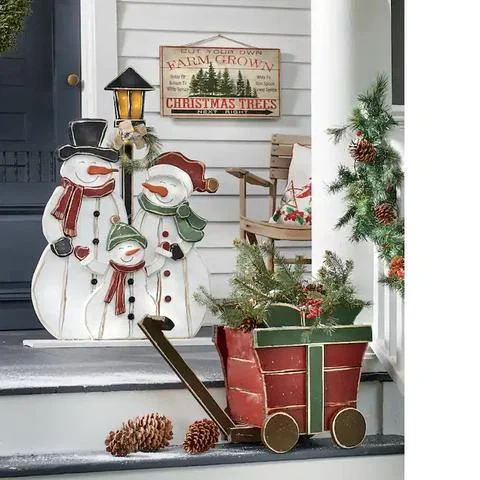 Add to your Christmas wreath and the welcome mat, this visitors greeting Snowman at your door for the really Christmas magic feel. This big, white snowman welcome board would have your visitors feel like stepping through the door of Father Christmas.
Note:Our sturdy Chunky Wood Cutouts are handcrafted out of solid wood and have a hand-painted distressed finish.